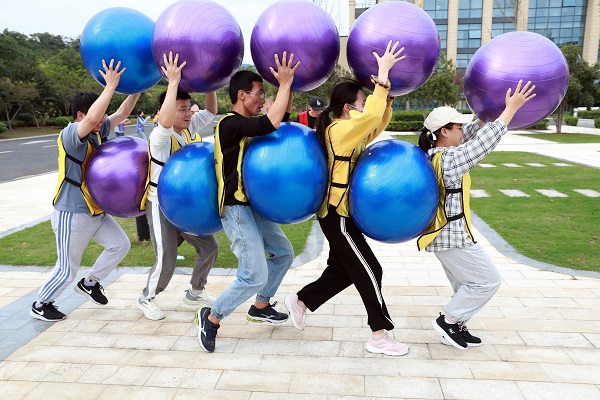 In order to enrich after-school life of SIO and enhance cohesion of students from different grades and with different student statuses, SIO held the first fun sports meeting for graduate students in Lin¡¯an Base on October 19. After preliminary selection, a total of 72 graduate students from their respective laboratories participated in this fun sports meeting.
A point system was employed in the fun sports meeting. Graduate students were divided into 6 teams. After final calculation of the points of each team, the team with the highest total points won the championship. During the sports meeting, all teams shouted loud slogans. The sport meeting events included jumping ropes around figure eight, fun relay, tortoise and hare race, centipede walking, hula hoop turning and tug-of-war competition. The sports meeting featured various forms and rich contents, during which, both personal strength and mutual cooperation of players were fully demonstrated. In the sports meeting, the graduate students devoted themselves to the race against the time under a tense and warm atmosphere. After a day of fierce competition, the champion and runner-up were finally decided.
The fun sports meeting aroused the enthusiasm and vitality of the students and showed full of youthful spirit and competition enthusiasm of graduate students. It also allowed everyone to experience the spirit of unity, hard work and perseverance of SIO.